Kayaking & Paddle Boarding A Perfect Way to "Social Distance" with Nature
Comments Off

on Kayaking & Paddle Boarding A Perfect Way to "Social Distance" with Nature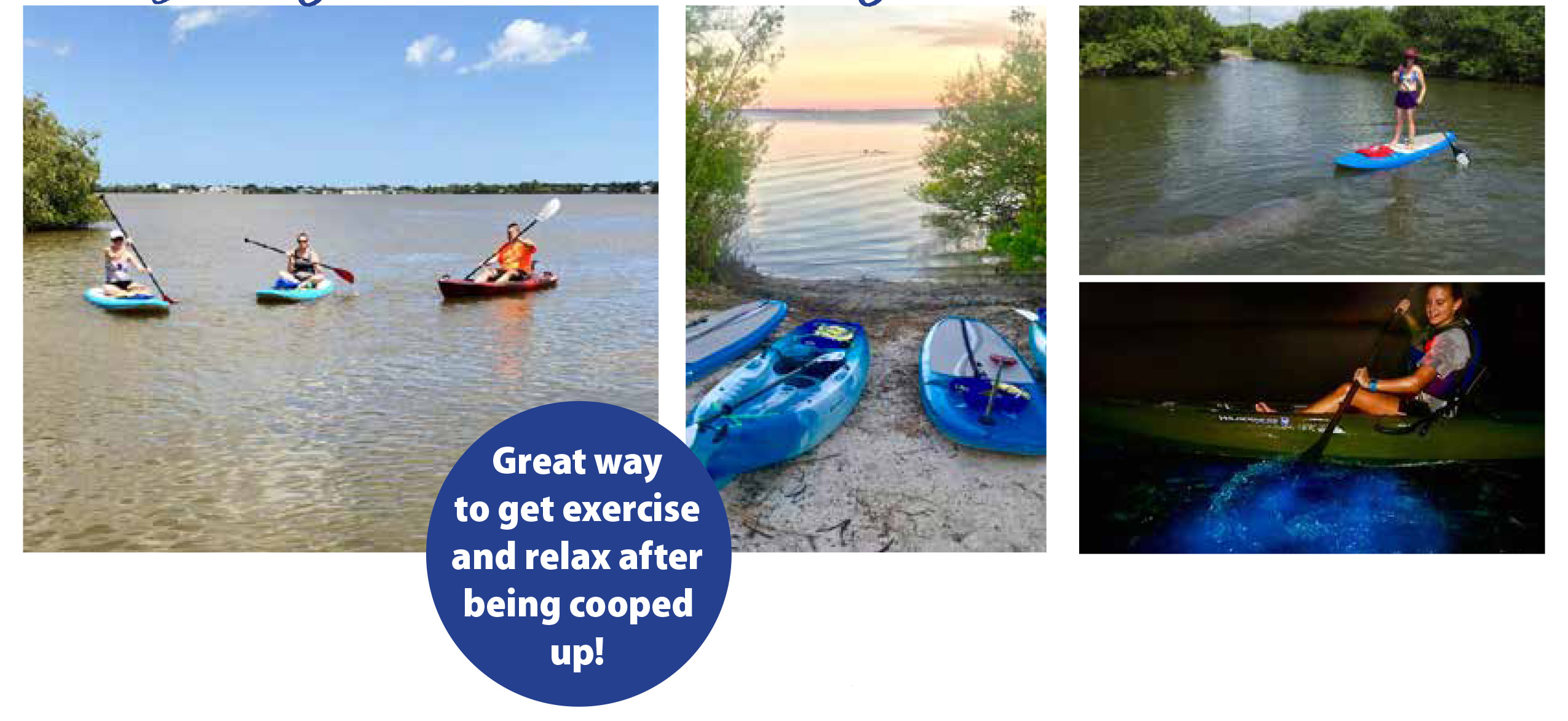 While Space Coast residents and the rest of our country have been "lock-downed" due to the COVID-19 pandemic—the dolphins, manatees, birds, fishes and other animals that inhabit our shorelines, islands and waters here on the Indian and Banana river lagoons have been thriving!
With the spring upon us—as our weather warms up—there is no better season to witness "nature in Brevard— and doing so via a kayak or paddleboard may just be the best option!
Paddling on our beautiful rivers can be a great way to get exercise and enjoy a little relaxation after being cooped up in the house. And the good news is the adventure allows one to continue to "social-distance."
Beginning at dusk during the late spring and summertime through the fall —beneath the warm and dark waters of these lagoons—a natural, yet peculiar phenomenon exists.
Called Bioluminescence—hundreds of micro marine organisms generate white illumination through internal chemical reactions similar to fireflies. The organisms, though too tiny to see with the naked-eye, are excited by the movement of water. When this happens, they light up, projecting beautiful glowing hues of fluorescent color. The best time to view this is when there is a new moon, providing low lighting on the water.
"It's magical and resembles fireworks on the water," said Girard Middleton, owner of SoBe Surf and Paddle, one of the longest running paddle board and kayak tour operators in Brevard. "It's spectacular!"
Because the plantlike organisms operate on an internal clock (circadian rhythm), they photosynthesize during the day, rest, and bio illuminate at night.
Overall, this plankton is most abundant in the summer months because of longer daylight hours, water salinity, and PH and turbidity this time of the year.
"These tiny organisms scatter when paddling over them is like a light show of shooting stars," Middleton said. His company, Sobe Surf and Paddle, launches from Brevard Veterans Memorial Park, taking guest in and around Sykes Creek. The trips offer paddlers opportunity to venture deep into the multiple coves that exist in the bio-diverse Merritt Island National Wildlife Refuge.
He said though the business has suffered much revenue loss due to the pandemic related closures, he has remained focused on providing both paddle and kayaking excursions via individual opportunities to rent single water travel vehicles and small group tours.
I am following the CDC (Center for Disease Control) guidelines to make sure all my equipment is sanitized and safe.
"Trips are a great way to get a healthy dose of vitamin-c, exercise and bond with nature."
"I consider myself blessed to be able to share my knowledge of the area and provide folks with both my tours or just let them explore on their own," said Middleton.
"There is so much to see, I think being around nature tends to take your mind off all the thoughts of everything going
on in the world with this pandemic and all. It's a very peaceful way to enjoy the
day, or even a few hours." Whether you just want to check out the manatees, or decide to do the night tour, it is always a great adventure," he added.
"Along with the bioluminescent phenomena that we are beginning to see as the waters heat up, there has been an abundance of comb jelly fish that are interesting to watch this time of the year. These jellyfish, called Ctenophoras, resemble a walnut of goo," said Middleton.
Though their lifespan is short, they are considered an important part of the ecosystem. Unlike other jellyfish, they are non-stinging and made up of 95 percent water. They give off a glow in the dark,
similar to plankton.
"It is possible to hold these jellies," Middleton said. "Though they do not sting, they do give off an odor." SoBe surf has a huge selection of paddle boards for sale, along with paddles, supplies and other gear. A
professional SUP (Stand-up paddle) athlete, Middleton also offers private surf and ocean SUP lessons.
Middleton offers discounts to military veterans on all of his sales and rental equipment. Free parking at the Brevard Veterans Memorial museum is available.