A Special Place to Live
Comments Off

on A Special Place to Live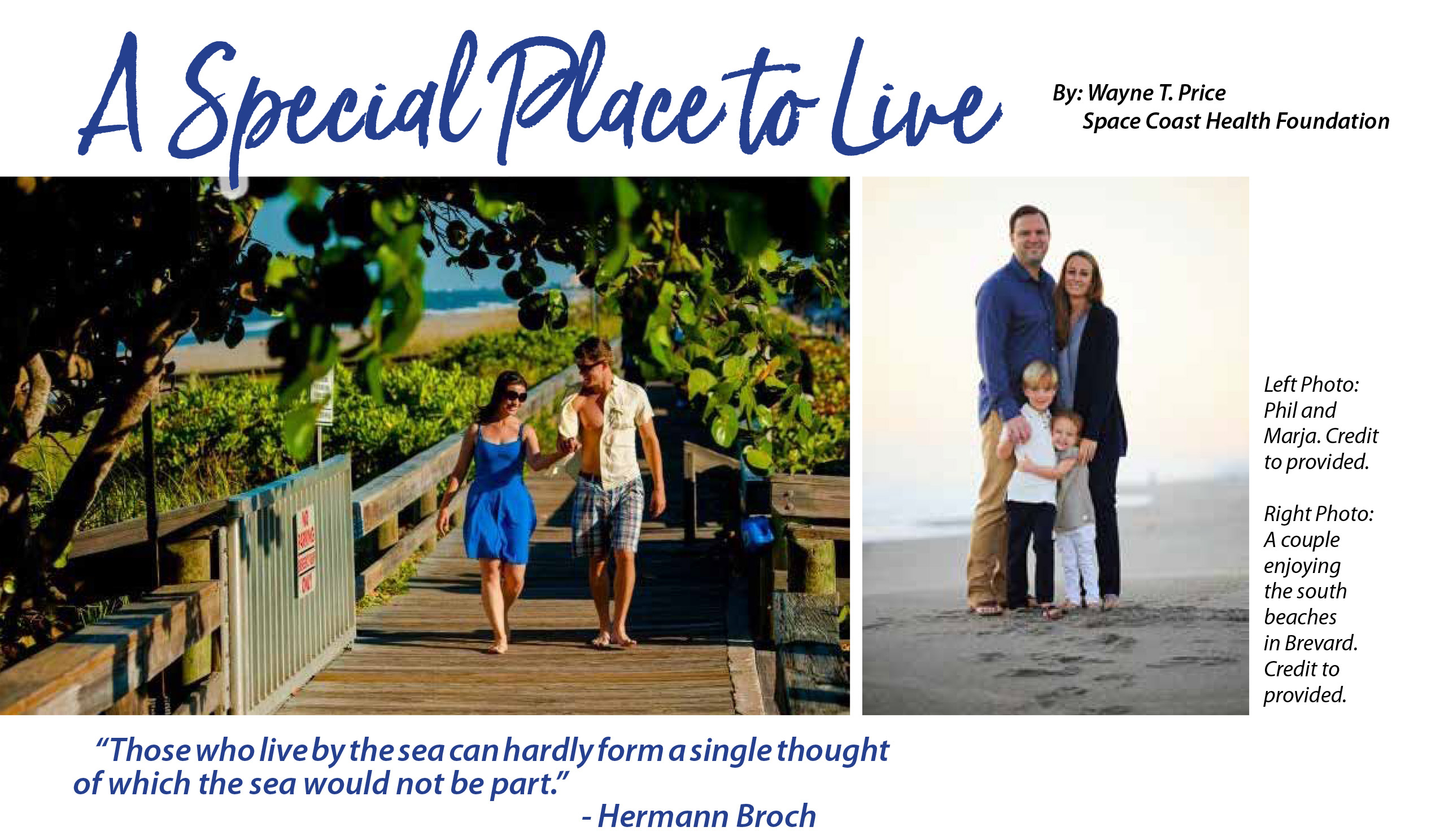 Growing up in Wyoming, Marja Welsh never found the scenery there too shabby. Grand vistas. The Rockies. But does it compare with living in a beach community, such as the Space Coast?
Not really, says Marja, a married mother of two who has lived beachside in Brevard County for the last decade. Her husband, Phil, is a Merritt Island native and he's known the magic of beach living all his life.
"When I get home from a long day of work, or even when returning from a vacation from somewhere spectacular, I'm reminded that we live in paradise," said the 40-year-old Phil, owner of the local Paul Davis Restoration franchise.
Paradise Found
There is more and more evidence coming out that beachside living in a warm climate is good for your health, both physically and mentally. There is the fresh salt air and the numerous species of wildlife. And you're treated to seemingly ubiquitous breathtaking sunrises that often can only be described as poetic and inspirational.
Of course, there are the numerous physical activities from surfing to fishing to swimming to jogs on the beach, so it's nearly impossible to be bored. Brevard County is a long, narrow county of 72 miles of coastline north to south.
Space Coast Health Foundation
No person who lives here is more than 25 minutes away from the ocean. This little strip of paradise hasn't gone unnoticed.
U.S. News and World Report last year ranked Brevard County as the nation's No. 1 beach community, topping well known communities like San Diego (No. 1), Sarasota (No. 3), Honolulu (No. 4) and Charleston, S.C. (No. 5.)
The Welsh family lives in Indialantic where ocean and beach life is now part of their DNA, as is the rich, salt-infused air blowing in from the east. One second you can see a squadron of pelicans flying in formation along the beach and the next you're watching a yellowish sand crab chasing a just-hatched sea turtle on its journey to the ocean.
At the same time there are surfers, anglers and people walking barefoot along the waterline as they collect sea shells.
"I couldn't imagine a better place to call home or raise our kids," Phil said. Here's a compilation of benefits to living in a beach community.
Sea air helps with respiratory inflammation with its concentration of saline water, balmy sea air soothes the mucosa lining of the respiratory system. The salt air will ease your sinusitis symptoms by opening the blockages in the sinus tract.
The ocean can clear your mind of garble: Studies show watching the waves and tides roll in and out help us focus more and put things in perspective. The constant movement of the water's motion can put some in a semi-meditative state that increases relaxation and focus.
Good for skin diseases: A quick dip in seawater can be a godsend for some, such as those suffering psoriasis. Seawater boasts minerals such as chloride, sodium, iodine, magnesium, sulphur and potassium, all which are beneficial for skin. And research shows seawater, along with UVB radiation, can ameliorate skin problems such as atopic dermatitis. (That said, remember to use sunblock.)
Promotes good sleep: Some say sea air is full of negative ions which can have mood-enhancing properties, improve oxygen intake and balance levels of the hormone serotonin, which helps you relax and sleep.
Keeps you active: Studies show coastal proximity, or staying close to the sea, increases your chances of being more fit and healthier than those in other communities.
That's partially because the constant ocean movement subliminally tells us we need to be moving also.