Ask the Expert – Top Tier Sports Medicine
Comments Off

on Ask the Expert – Top Tier Sports Medicine
Physical Therapy helps people get back strength and mobility to recover after illness and injury. It doesn't just help a person build strength and range of motion—but can help manage pain while bones and tendons heal.
The goal of a physical therapist is to promote the patient's ability to restore function and prevent disability.
SM Direct Magazine spoke with co-owner of Top Tier Sports Medicine, Chris Wicker, DPT, OTR/L, TPI certified, about a few important things to know about the services and benefits of physical therapy. Top Tier Sports Medicine offers 3 locations in Brevard.
Why is Physical Therapy mandatory for healing and recovery after injury or illness?
Answer: It is beneficial for speed and abide in better recovery. It aims to restore proper strength, stability and mobility of limbs and body so that one can return to function.
What kind of injuries do you specialize in?
Answer: We see a variety of diagnosis/injuries from sprains and strains to post- surgical cases of joints and broken bones. We treat patients post total joint replacements, knee surgeries (Meniscus & ACL), shoulder impingements (rotator cuff ), back pain and neck pain. We also treat patients with balance/gait deficits, post- concussion symptoms, vertigo and TMJ. Top Tier also is the rehab provider to the Washington National MLB baseball team and the Women's professional golf association, LPGA.
What are some of the latest innovative types of therapy that can be used to treat people rehabbing from surgery or other injuries?
Answer: Some of the newest tools used for Physical Therapy include massage guns called Hypervolts, made by Hyperice and Theragun. These tools help to relieve muscle soreness and stiffness, improve circulation and motion, ROM (range of motion) and accelerates warm up.
We also use Blood Flow Restriction sleeves for therapy. The cuffs are placed around limbs to decrease venous return while allowing arterial flow with resistance training to improve strength without the need of heavy loads.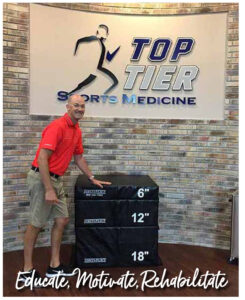 What is the best treatment for broken or sprained bone injuries?
Answer: RICE (Rest, Ice, Compression, Elevation) and if the injury is severe, x-rays may be needed to determine further treatment.
What is the ASTYM Therapy you provide?
Answer: The ASTYM Therapy uses tools to help reduce scar tissue and also help heal abnormal capillaries within tissue to create an inflammatory response. The procedure increases blood flow which has been proven to regenerate and heal damaged tissue. Most people see significant results from this therapy within 8 to 12 visits.
What sets Top Tier apart from other Physical Therapy clinics?
Answer: I believe we are unique in that we focus on manual therapy. We also do not use any PT assistants or adjunct staff , but employ only certified Physical Therapists. Our goal is to offer patients an opportunity to work with top notch professionals at our locations.
How does it feel to witness patients who experience amazing recovery after treatment at your facilities?
Answer: I have been able to witness people who come to us at their lowest who eventually return to the activities they once did before injuries. It is gratifying to know that they can gain improved ROM strength, pain reduction and attitude after each visit with our therapists.